Is Home Staging
Worth

It ?

Absolutely! At LivingWell Properties, we are confidently passionate about home staging and include this service for every home seller. Deb is an Accredited Staging Professional (ASP) and knows there is no better investment you can make in the sale of your home.
SO WHY STAGE?
Can't you just clean up the house a little, put a sign in the yard and sell a house? Yes you can, but you've just left thousands of dollars on the table. An un-staged home leads to price erosion when buyers start objecting to the condition, needed repairs, and updates that have not been completed.
In contrast, sweat equity pays high dividends as industry results prove that 94% of staged homes sell for more money. Home staging isn't about decorating the house, it's about showing off the best features of the house. From the curb to the fence, we provide expert guidance on showcasing your home in its best light. Our Exclusive Selling System gives our clients a very distinct advantage over the competition. It's one reason buyers line up to buy our listings instead of the house next door.
Fun Fact: home staging helps our clients average $8,786 more on the sale of their home!
QUICK HOME STAGING TIPS
Home staging prepares a seller's house to give it a "model home" appearance so the buyer can see themselves living in the home.
Neutral Decor: Today's buyer desires neutral color schemes preferably in gray or greige tones. Consider painting over brightly colored walls for a clean and fresh palette.
Depersonalize: Remove all family photos and personal collections so the buyers can visualize themselves living in the home.
Declutter: Clutter eats a seller's home equity. Pack away anything smaller than the size of a melon.
Fix Whatever Is Broken: Beautiful paint will never make up for the crack in the drywall. Make any obvious repairs to eliminate buyer's objections before they happen.
Clean, Clean, & Clean Again: There is nothing worse to a buyer than walking into a dirty home. Deep cleaning your home from top to bottom is critical. It's well worth the investment to hire a professional cleaning crew.
BEFORE AND AFTER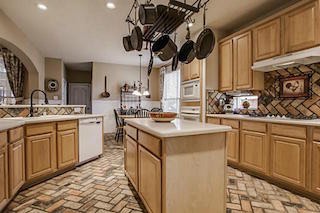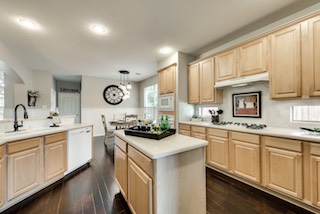 LIGHTS - CAMERA - ACTION
Once your house is show ready, it's time for the camera. We hire a professional real estate photograph that captures the full range of beauty, color and light in each room. This is one area that should never be short circuited. Along with inspiring photos, we incorporate video to to capture the buyer's attention. It gives a buyer the privilege of virtually walking through the home from anywhere in the world.
You can continue to learn how we market your home on our marketing page.
You only get one chance to make a first impression. Why leave that impression to chance? When it's time to sell your house, make sure you have an agent by your side that knows the power of home staging and the experience to highlight the best features of your house.
If you're ready to explore how our Exclusive Selling System can help you sell your house for the most money, contact us today. We'd love to chat about how we can help move you towards your goals.