Selling Your Home In Windsong Ranch
If you are considering selling your home in Windsong Ranch, please allow us to share a few helpful hints to make the process easier and more profitable for you. If you are here by mistake and looking for a home to purchase in Windsong Ranch? Then head over to our page all about Windsong Ranch Homes For Sale.
BUILDERS HAVE NOTHING TO SELL, BUT YOU DO!!!
most builders have nothing to sell which means your home is worth more money!
Please follow our 3 steps to establishing your homes value. Each step serves a purpose in helping you determine if this is a good time to sell your Windsong Ranch Home and what price you will receive on the open market. We look forward to helping you...
Step 1. Get Your Instant Home Price
Our instant home price is a very rough estimate, jump to step 3 for the most accurate pricing. However, our instant price will get you in the ballpark to see if it makes sense to move forward with a full CMA. WINDSONGRANCH.HOMES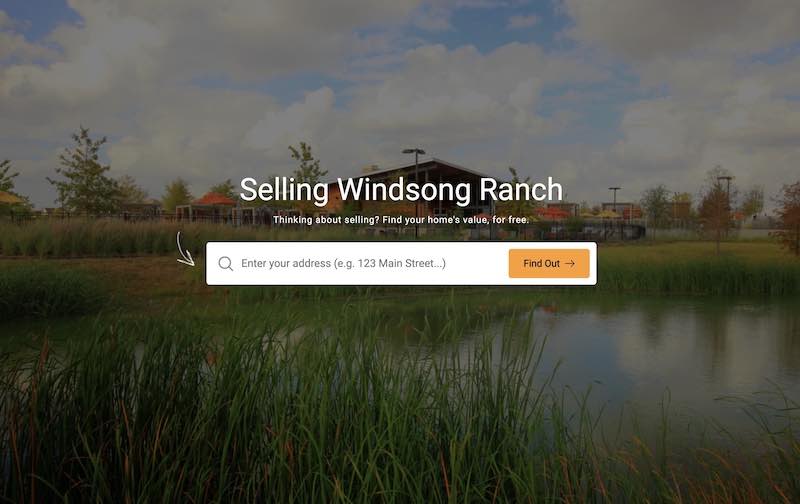 Step 2. Read Our Market Update
Our exclusive market updates are a simple, up-to-the-minute overview of the current active, pending and sold properties in Windsong Ranch. This is an amazing resource to quickly get a feel for what is selling, what is not and what is commanding top dollar. Click here to read our current Windsong Ranch Market Update.
Step 3. Request a Comparative Market Analysis (CMA)
A CMA is the best and most accurate way of pricing your home. Any agent can provide a generic CMA for your home. Only an expert agent with experience in Windsong Ranch can give you an accurate and precise CMA for your Windsong Ranch Home.
Learn More About Windsong Ranch...
This is where you can quickly find the latest blog posts about Windsong Ranch. If you decide not to subscribe to our email updates, check back here often to make sure you don't miss any Windsong Ranch Housing Market information.