Is A Home Inspection
Necessary

?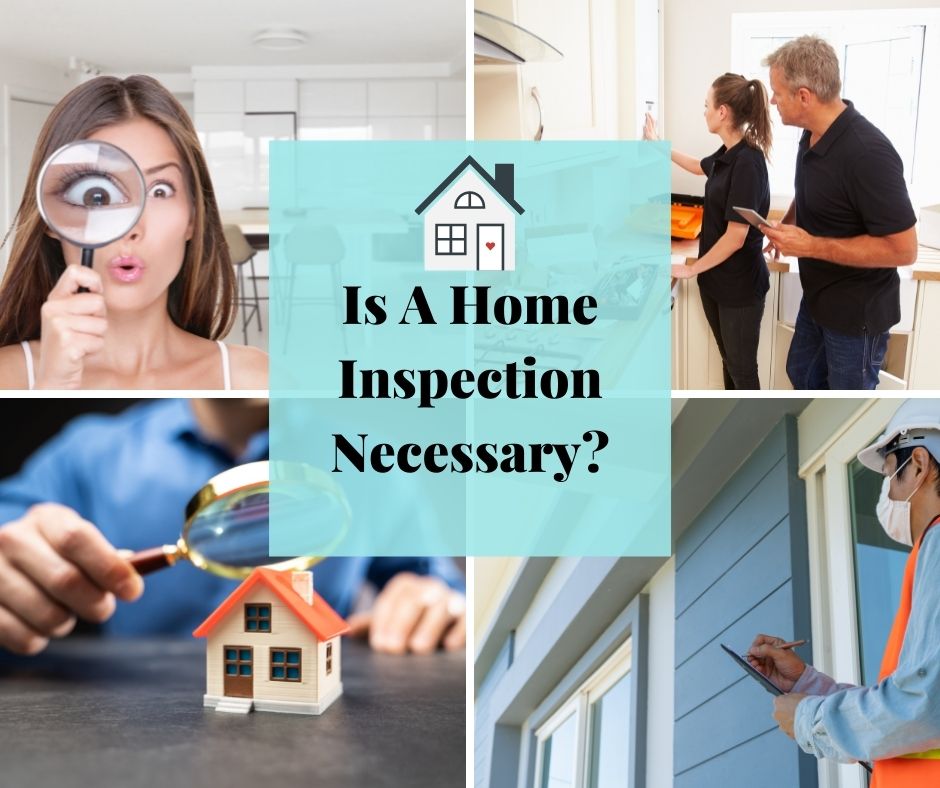 Although a home may look great to you, there can be structural or other problems that are not visible to the naked or untrained eye. This makes obtaining an inspection a very important part of your home buying experience. Although a home inspection is not required, it is a good idea and strongly recommended!
What is a part of a home inspection?
Buying and selling a home can be full of ups and downs, stresses, and rewards. Home inspections are a chance for the opinion of an outside, unbiased professional to provide insight into the condition of a home.
While home inspections are typically recommended when buying or selling a home they are typically not required unless there's an inspection contingency in the purchase contract. The terms of some mortgages may require you to have an inspection. A home inspection is different from a home appraisal, which is almost always required. If, as a buyer, you forgo an inspection, any problems that happen after the sale are generally your responsibility.
A home inspector is a qualified professional who visually inspects the structure and components of a home and looks for any immediate or potential problems. They provide a written report to you with a description of problem areas and may also include recommendations for further evaluation. You can go over the home inspection report with your real estate agent to decide how the results may affect the purchase of your potential home. Unless a different arrangement is made, the buyer is also responsible for finding and scheduling an inspector.
Home inspection requirements vary, but typically these items below are inspected.
Structural elements: Construction of visible foundation, evidence of sagging or bowing of the structure, floors and floor framing, walls, ceilings, stairs, drainage systems and window alignment.
Safety: Operating fire and carbon monoxide alarms, fire sprinklers, condition of stairs, hand and guardrails, and garage door openers.
Grounds: Leaks from the septic tank, proper drainage, and condition of the house's driveways, fences, and sidewalks.
Roof: Condition of shingles, any repairs/patches to flat roofs, clear vents, damage to chimneys, and properly working gutters.
Exterior surfaces: Correct clearance between ground and siding material, condition of exterior paint or siding and properly working lights and electrical outlets.
Attic: Sufficient insulation, proper ventilation, and any sign of leaking or water damage
Interior plumbing: No damaged or leaking pipes, proper hot water temperature, as well as functioning toilets, sinks, bathtubs, and showers.
Electrical system: Up-to-code condition and type of visible wiring, and proper function of circuit breakers, outlets, light fixtures, and fans.
Appliances: Proper function built-in and freestanding appliances (stove, dishwasher, refrigerator, microwave, washer and dryer, and all other appliances).
Heating and cooling systems: Condition of the furnace, air conditioning (temperature permitting), water heater, chimney, and fireplace.
Basement: Solid foundation, walls, and floors, with no signs of water intrusion or damage.
Garage: Solid foundation, windows, ceiling, framing, roof condition, working garage door opener, up-to-code electrical system, and proper functioning outlets.
Insulation and ventilation: Insulation in unfinished attic and foundation areas, kitchen, bath, laundry venting systems, and the presence of ventilation fans.
Be sure you are comfortable with your choice of a home inspector. They are extremely important and can help you detect and avoid major pitfalls in the home buying process. Be sure to educate yourself about the process and find a home inspector you can trust. Your real estate agent is a great resource as you go through this process.
---
What Does An Inspector Do?
The function of the inspector is to check the safety of your potential new home. You would not want to bring your family into a home that was not safe would you? The inspector will focus on the structure, but if there is damage beyond their expertise, he will suggest an engineer's report.
The Inspector does not evaluate whether or not you are getting a good deal on your new home. His purpose is to check on the electrical system, the plumbing and waste disposal available, the water heater, the insulation and ventilation, and the HVAC system. He will also check the foundation including doors, windows, ceilings, walls, floors, and the roof. Water source and quality inspection is done only on rural properties that have a well and/or septic tank. Typically a water specialist will perform these tests.
Home Inspection Limitations. It is also important to note an inspector has limitations of expertise. Typically an inspector will have a strong general knowledge of many things, but he will not be a specialist of all fields. If something looks amiss he will suggest a more specific inspection be done by a more qualified vendor.
If your home inspector happens to discover a serious problem, a more specific Inspection may be recommended. He will indicate what type of inspection it needs. It is a good idea to have your potential new home inspected for the presence of a variety of health-related risks like radon, asbestos and mold. Other possible problems could be with the water or waste disposal system, presence of expansive soils, poor drainage around the foundation.
Is It Worth The Money?
We cannot emphasize enough the value and necessity of an extensive home inspection. Many home purchasers, either in the desire to save the money that a good inspection costs, or due to simple ignorance, have spent enormous sums of money repairing items that any good home inspector would have pointed out. Do not let anyone dissuade you from having the property thoroughly inspected!
When your inspector discovers unsatisfactory conditions you can request the seller to repair/replace items. During this negotiation, the seller has a specific time frame to decide if he can or wants to do any or all the buyers requests. If the buyer and seller cannot come to an agreement of terms, the buyer can decline to purchase the home.
Call us to Schedule an Inspection or Receive Referrals of Inspectors We Recommend