Worst DIY Home Improvements for Condos
Posted by Brent Wells on Thursday, May 26, 2022 at 2:57 PM
By Brent Wells / May 26, 2022
Comment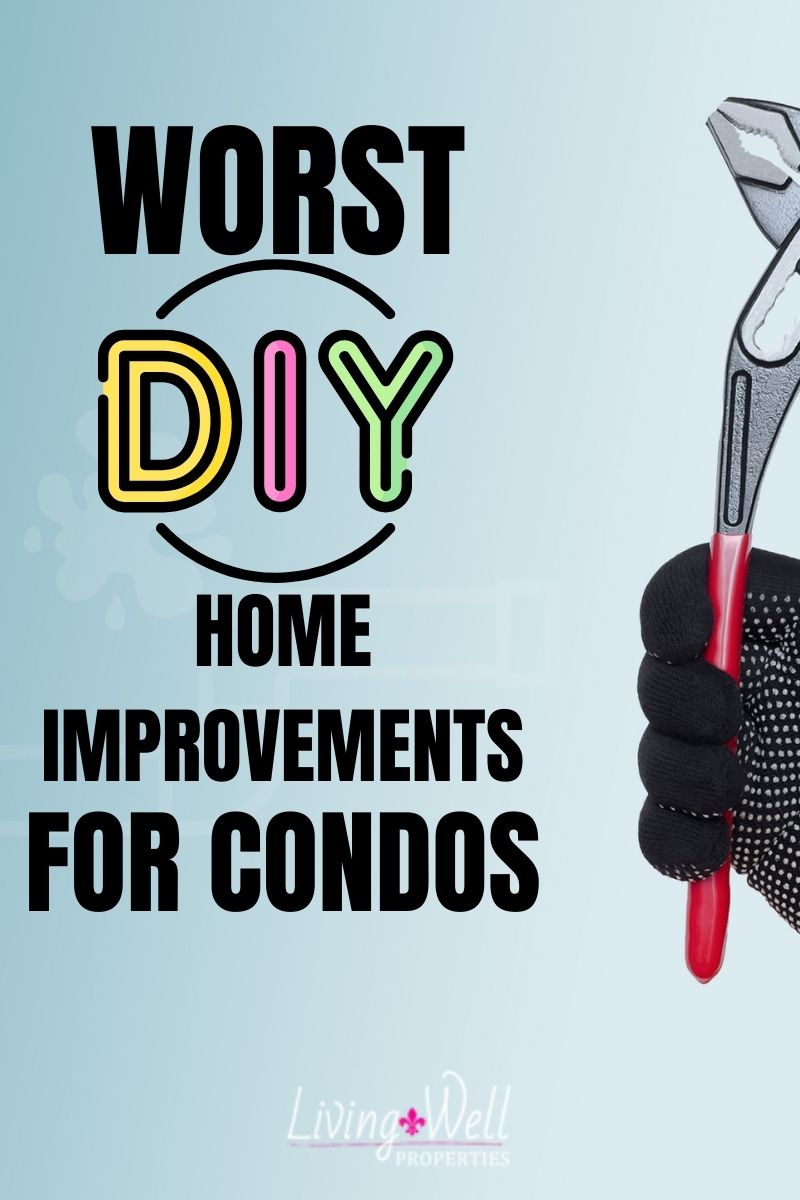 A simple internet search will give you dozens of DIY tutorials for condos. However, executing them takes much longer than clicking the play button on those tutorials. Even projects that seem simple can turn out to be disastrous without the right skills or materials. In most cases, there isn't real damage done besides ending up with an unattractive outcome but it can cost thousands of dollars to fix such a mistake. It is even worse if you want to sell the condo. Buyers will go for condos with professionally done renovations and not a property with glaring evidence of a DIY gone wrong. Some of the worst DIY home improvement projects for condos are:
DIY painting
Painting may look easy when watching a Youtube tutorial on how it is done but things are different when you get down to it. Therefore, make sure you have some experience before you start painting your condo. There are a lot of things to consider ranging from the type of paint to buy and how to mix the paint to how to perfectly do the brush strokes. A project that started with the aim of making your condo look better can end up damaging it. Buyers are very particular, especially if they are paying a lot of money for the condo and you can suffer huge losses just because of a DIY gone wrong. Unless you are sure you can do a good job, just call in a professional to paint your condo.
Installation of kitchen cabinetry
Kitchen renovations are not only complex but also require a high level of skill and knowledge. Trying to install your appliances and cabinets is likely to end badly if you lack these skills. These are expensive purchases and the wrong installation can cost you tens of thousands of dollars in losses. Unless you have the skillset to install kitchen appliances and cabinetry the result will not be attractive at all. Kitchen renovation is a space planning issue that cannot be mastered in a day. However, for a skilled professional it can be a one or two-day job and you will be pleased with the results.
Additional 5 Things to Know About Gutting a Room
Upstairs laundry room
There is a reason why most of the laundry rooms are in the basement or ground floor. An upstairs laundry room can be a good idea, especially when there are a lot of people living in the condo. However, if you turn this into a DIY project you should be prepared to be disappointed. A laundry room requires precise plumbing and if not done right you will have more problems to deal with than the inconvenience of doing laundry elsewhere. A leaky roof, rotting floors, ceiling damage, mold or mildew growth, and structural problems are some of the things you will be dealing with if the project goes wrong. These are problems not likely to be experienced when professionals are called in to do the job, and even if leakages happen the professionals have insurance.
Installation of committed home features
"Committed" means a semi-permanent aesthetic design change uniquely made to meet someone's taste. It can be anything from pink granite countertops to purple carpeting. These changes should only be made if the homeowner plans to stay there for a long. However, when the time to sell the home comes you should also show the same commitment in reversing the changes. A committed choice might be the reason why your house stays in the market for years without getting a buyer. Since the "committed" changes are usually passion projects, most homeowners complete them on their own but it is not always a good choice. A design change that is meant to last for long should be done by a pro no matter the kind of changes that have to be done.
Tile work
Installation of tiles is more than making sure all the squares align. When done right, tile installation on the entryways, kitchen, or bathroom can greatly improve the outlook of the property. It doesn't have to be done just because the condo is being listed. Nevertheless, when done by an unskilled person they will not only make the condo unsightly but they can lead to accidents. The tiles installed in living rooms aren't the same ones that should be in the bathrooms. Also, poorly done tile work tells potential buyers that the owner is not invested enough in the house to get professional help with renovations.
It is not wrong to start a home improvement project to keep you busy over the weekend and you can work with one qualified professional who will guide the process. Assisting will keep you busy and the professional can even reduce the rates when you are helping with the project. You not only get fulfillment for a job well done in the end but also learn installation skills in the process.
A DIY hardwood flooring or carpeting installation
Flooring doesn't just affect the aesthetics of the condo but also the usability of the home. Given that every house has a floor, installation mistakes are less likely to escape the attention of potential buyers. Flooring is a basic project in any condo renovation hence the need to let a professional handle it. A poorly done flooring will make it difficult to get around the house. No matter what you do, everyone will notice the installation blunders. The solution will be to order a fresh installation which will be too expensive.
Looking for low-maintenance condos, townhouses or other real estate in Prosper? Contact the Living Well Team today.