Wood Flooring: A Primer For Home Owners
Posted by Brent Wells on Monday, February 13, 2017 at 5:49 PM
By Brent Wells / February 13, 2017
1 Comment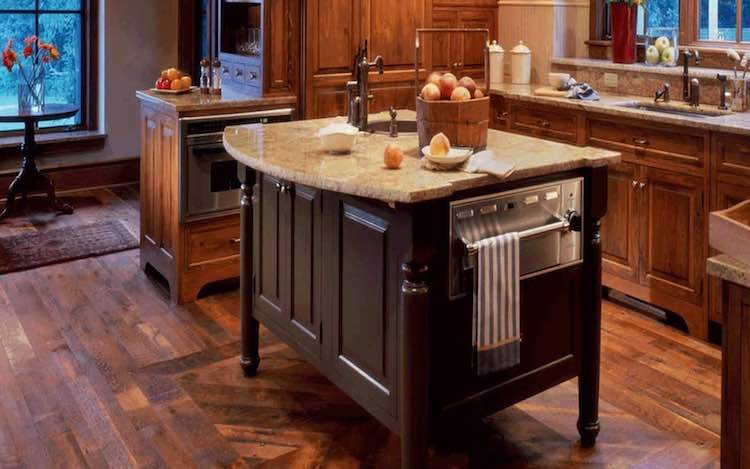 Wood Flooring: My Perspective
Wood floors are by far the most requested type of flooring in North Texas. Wood floors offer many features that appeal to homeowners. They are very durable, add a timeless beauty to a home, and stay cool in our hot Texas summers. When you walk in a home with beautiful wood floors it can take your breath away. When the proper wood, stain color, and installation occur it can transform a home.
I have a passion for wood flooring that borders on the obsessive. My childhood home was filled with beautiful parquet wood flooring in every room. Most homeowners hid their wood floors at that time, but not my mother. She was and is a true southern lady. Every month she would wax and buff the floors and proudly displayed them for all to see. She was ahead of her time. Now fast forward to when Deb and I built our new home in Prosper. We had located some antique wide plank flooring that we fell in love with. We decided to use it in every room excluding the bathrooms. I did try to persuade Deb to let me put wood in the bathrooms as well, but she would have none of it. When we closed on our home, we removed the carpet and had the wood installed. It delayed our move-in by a week, but was worth it. Our floors are nine inch wide planks of pine that are over 300 years old. The trees were cut in the northeast and were roughly 150 years old at the time of cutting. They were milled into 18 inch square timbers and used in one of the first Dallas baptist churches. The church was demolished after 150 years of worship services and the pine beams were saved. The beams were milled into flooring. So, here we are today with an amazing story about the wood floors in our home. Like I mentioned before, I have a passion.
Wood Flooring Styles
There are a few basics you should understand when selecting your new wood floors. Let's begin by talking about the various styles of wood flooring: engineered wood flooring and solid wood flooring.
Engineered
Engineered wood flooring is composed of wood layers glued together into long planks, with a top layer made from a thin solid wood veneer. Engineered wood is less likely to suffer from moisture problems, but is not really a good candidate for refinishing. Some people have successfully refinished engineered wood floors once, but others have ruined their floors trying. The top layer of wood veneer can also be ruined very easily if penetrated by damage. Engineered wood floors are typically more affordable than solid wood.
Solid
Solid hardwood flooring is made of strips of wood with tongue and groove sides. You can find solid wood flooring in widths from 1 1/2 inches to over 16 inches wide and they come unfinished or pre-finished. Unfinished wood requires sanding, staining, and a clear top coat after the wood is installed in your home. Since this type of flooring is made from solid wood, it is very sensitive to moisture. Solid wood floors can be sanded and refinished multiple times over their lifespan. These are the most expensive wood flooring option, but are typically considered to be the most stunning.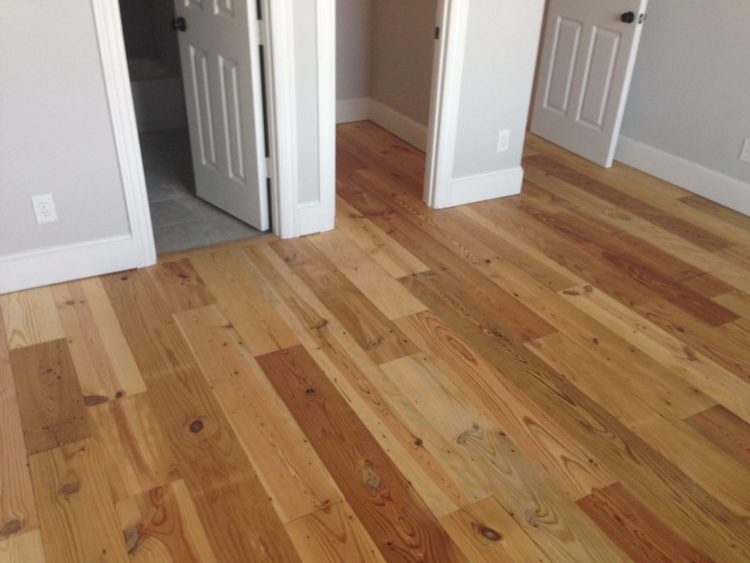 Wood Flooring Species
You have a few option in your wood species selection. I don't discuss bamboo here since it is a grass and not a wood product. I happen to love bamboo as a flooring selection. It is a sustainable product, hard, beautiful and might just be the perfect solution for you. You can learn more about it here.
Softwoods
Evergreen trees in the northern hemisphere, such as spruce, cedar, fir are some softwood species which appeal to those who desire a softer spring beneath their steps. Pine is the most popular softwood for installing wood floors. I do want to caution you about using a softwood. You will get more damage with a softwood from pets, high heels, and furniture than a hardwood. Choose wisely in your wood flooring selection or you may wind up with a $25,000 mistake.
Hardwoods
Texas is an Oak state. We use it to smoke our brisket (folks BBQ is smoked, not grilled), build furniture, and cover our floors. You will also see it as the most common tree planted in North Texas new home landscapes. We do however have many other options for wood flooring. Pecan, Ash, Walnut, and of course Oak are some hardwood options. Here is a great chart that details the hardness of each wood type. The hardness of your floors is how easily it resists dents, scratches, and damage from various sources. [caption id="attachment_1229" align="alignnone" width="1024"]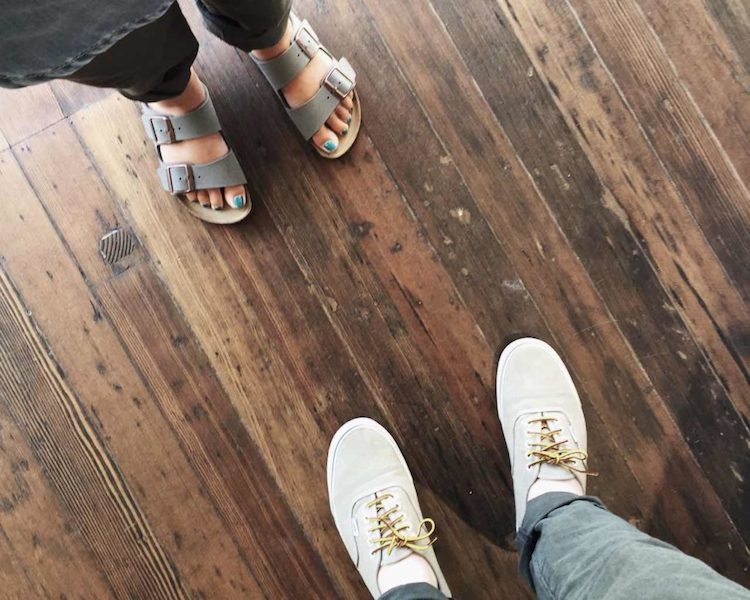 Processed with VSCOcam with se3 preset[/caption]
Wood Flooring Cost, Installation, And Maintainance
The cost of wood flooring varies greatly and I mean greatly. A 3,000 square foot home can get pre-finished wood flooring installed in all the dry areas for about $10 - $12 a square foot. If you want 12 inch black walnut floors with an inlay, plan on spending upwards of $90,000. Deb and I have access to amazing wood floors that run in the $9-$10 a foot. You can have wood flooring installed in many ways. You can have it glued down directly to the concrete. You can have it floated, which is just resting on top of the sub-floor. You can have a plywood sub-floor installed and your wood nailed down. The most expensive option is a nailed down, sanded and finished floor. This is also the selection most buyers make. It is stunning and provides a beautiful floor for the life of your home. An orange oil based wood cleaner or conditioner is all you really need. Just vacuum it normally and use the orange oil for spots or spills. I usually use the orange oil clean twice a year just to touch it up. My good friend Danny Jackson has forgotten more about wood working and care than I will ever learn and he reminded me to treat my wood floors like I treat a fine piece of wood furniture. It has basically the same needs.
Summary
I hope my introduction has helped you in your search for wood flooring knowledge. As in all things on this website, I do not claim to be perfect or all knowing. I do know more than I have shared and I have given you the briefest overview of all things related to wood flooring. My best advice is to seek out a wood flooring expert or if you can't find one give me a call. I love to talk about wood floors, can you tell?