Three Reasons People are Making the Move to Prosper
Posted by Brent Wells on Friday, December 16, 2022 at 5:11:40 PM
By Brent Wells / December 16, 2022
Comment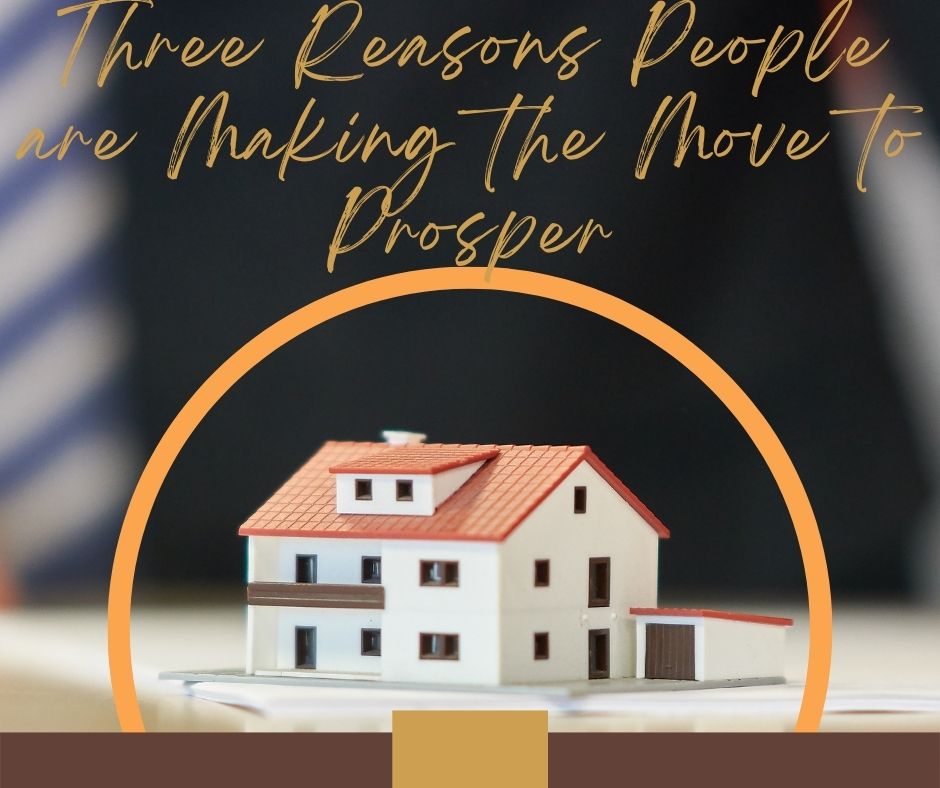 The Dallas Fort Worth metroplex area has for some time been one of the fastest-growing metropolitan areas in the country. This large area is highly desirable for its plethora of job opportunities as many national and international corporations have set up in the Dallas-Fort Worth area. It is also very affordable while still offering many of the perks and amenities of a large metropolitan city.
The Dallas-Fort Worth metroplex area is vast and finding the perfect area to settle in to cure care and be quickly overwhelming. There are many different pockets with their own unique cultures within the Dallas-Fort Worth area. Each person is going to have their own preferences on the type of neighborhood and larger surrounding community they are going to want to live in.
If a quieter spot in the greater Dallas Fort Worth area is more your style but not too far from the center of all the activity in Dallas and Fort Worth, the town of Prosper Texas has quickly become desirable for many people searching for this type of community.
Prosper Texas is a Dallas-Fort Worth suburb that has increased in size greatly in the last decade. Why is this? Why do so many people choose to settle in to prosper?
The Distance to Dallas and Fort Worth
The residents of Prosper have their own up-and-coming family-friendly community but there are also some advantages to being just a short drive outside of large cities that have almost endless services, activities, amenities, and more. Dallas is one of the biggest and most unique cities in Texas and in the entire country. Some people have lived in the Dallas area their whole life and still have not experienced everything there is to do in the city.
Prosper is just 35 miles outside of Dallas and the drive takes only about 40 minutes which is perfect for anyone looking to take the occasional trip into the big city for larger events and activities. It is also within a commutable distance for anyone wanting to live in a quieter area but retains their job in the city of Fort Worth is under an hour's drive from the town of Prosper. You're not just close to one large city you are close to two.
The public schools are amazing
One of the most important aspects of a community to a young family is the quality of the educational system through the schools. The schools in Prosper Texas are of the highest quality. The Texas Education Agency awarded Prosper School District with an A grade for accountability. Prosper students have test scores higher than both the Texas average and the national average as well as the number of residents with a high school diploma and the number of residents with a bachelor's degree. Prosper is ranked as one of the top-performing school districts and all of the state of Texas.
It is pretty safe here
In the last couple of years finding a safe place to live has become a higher priority on many people's lists but it has always been a top priority. Crime can happen anywhere but there are definitely some areas that have higher crime rates than others and feel less comfortable to live in. Prosper has a high safety ranking from the website area vibes. It is a pretty safe and family-friendly place to be.
Finding available real estate in Prosper Texas
The best way to find a home in one of Dallas's most desirable suburbs is to employ a local real estate agent. We are highly knowledgeable in all of Prosper's real estate and are happy to help you make your move to Prosper as stress-free as possible. For more information on Prosper Texas real estate please contact us anytime.