Whitley Place Homes For Sale Market Report (03/19)
Posted by Brent Wells on Wednesday, May 1, 2019 at 5:33 PM
By Brent Wells / May 1, 2019
Comment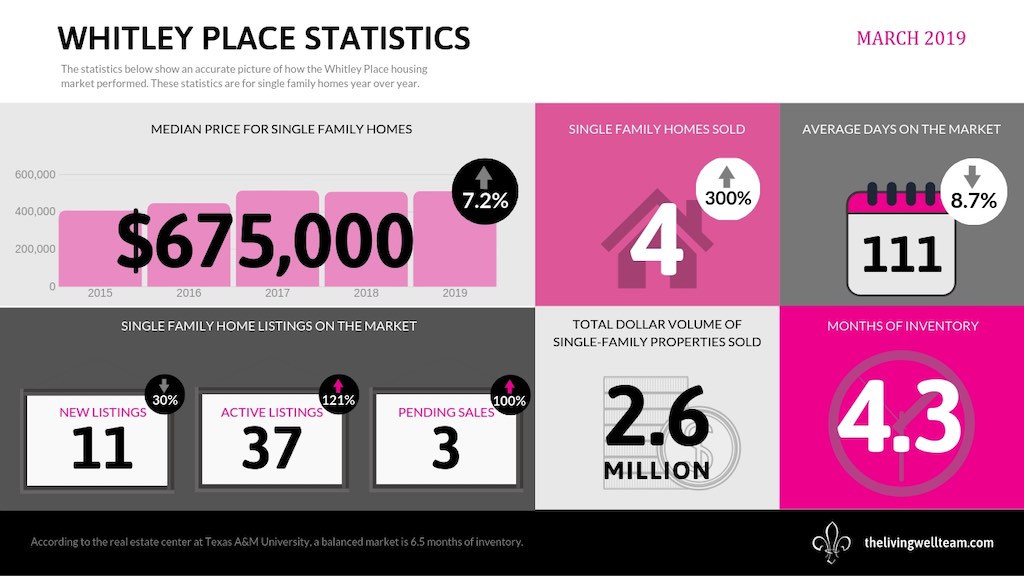 Here is a breakdown of the market numbers:
Home are selling for 7% more than last year
It takes over 135 days to sell on average
About 4 homes per month get sold
Whitley Place is slightly better for sellers (for techies we have 4.3 MOI)
For Buyers...
---
Right now in Whitley Place, we still have active builders and they always skew our sales numbers.
So if we remove the new construction sales data from our stats, we see a clearer picture of what you can expect as a home buyer. Our existing homes (not new construction) sell in 67 days and sell for about 98% of asking price. Those new construction homes are selling for greatly discounted prices, but they are much more expensive.
So what should you expect to offer as a buyer?
You are not going to typically get a deep discount on a Whitley Place home.
Most of the homes will be sold within 2 months, so don't wait if you find "the one".
Whitley Place has about 7 distinctly unique home sub-neighborhoods. They vary in size, style, and price. You need a REALTOR® that understands these differences to help you craft the perfect offer on your forever Whitley Place home.
Every Home In Whitley Place For Sale
For Sellers...
---
We are still in competition with the remaining Whitley Place builders (mainly Huntington Homes) and this may influence the sale of your home. We need to filter the sales data to just reflect residential resale homes (existing homes).
When we do this we see a pattern of averages that look great for our home sellers in Whitley Place. On average it takes 67 days to sell and you will receive 98% of your asking price.
Lets, be honest here, some folks have been on the market over a year and others sell in 31 days. Ok, I admit I am bragging about Deb selling 3721 Arborglen Court that fast, but it is still a valid data point.
So what steps do you take if you are considering selling your Whitley Place home:
Know what your home is worth, a great place to start is our Instant Whitley Place Home Valuation page. No talking to an agent, just a price.
Get access to our Whitley Place Market Report. It is a web page that shows ever home for sale and under contract in Whitley Place.
If you don't have a local Whitley Place agent, check us out. How we sell homes in Whitley Place faster and for more money.
We Love Answering Questions!