Last week, CNBC reported that new home sales grew 6.7% in May alone! Sales in our southern states surged to the highest recorded numbers in 11 years. This just reflects what we at The LivingWell Team are seeing on a weekly basis. We have been building new homes, and writing new build job contracts at the highest rate ever this year. Just to drive the point home, southern states wrote sales contracts for 409,000 units in May.
This is the highest level since July 2007
---
Ask Your Friends & Family
This is actually one of the top techniques that people use. If you can't trust mom and dad or aunt Sally who can you trust right? I will just say, it can be very subjective information. Keep in mind where they built, when they built and how much they spent. If it's not an apples to apples comparison, then you won't be getting good solid relavant information.
---
Read A Building Report
BuilderOnline.com is one of my favorite resources to builder insight. They truly have their finger on the pulse of the building industry. They just produced the following graph that shows DFWs top builders by VOLUME. This shows you who builds large amounts of homes, but does not reflect who builds quality or value.
Our choice for both best and worst home builder are on this list. Do you know which is which?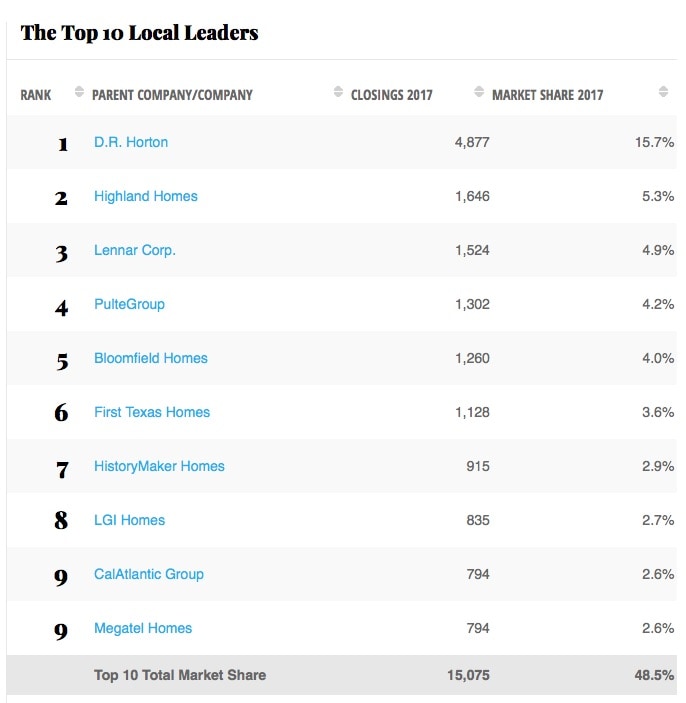 ---
Hire A REALTOR® That Is A New Construction Expert
I consider myself such an expert and the best way I can help you find your agent (other than myself of course) is with a checklist. So here we go...
What to look for in a new construction REALTOR®:
They must posses certification or corse work in new construction
Demonstrated knowledge of the construction process
Documentation of recent build jobs in your area and with your builder
Visits the build job weekly and updates the client after the visit
Satisfied clients that will speak with you about their experience
---
Bottom Line
A high volume builder may not be the best quality or experience for you and your family. You must have a REALTOR® in your corner who knows the local market and can guide you. They will save you money on the contract, help you pick the best floorplan and lot, attend your design sessions with you, visit the build job weekly and offer helpful insights into the building process and dispute resoulution.
Oh and if you want to know who the worst or best builder on that list is you have to call or email me...