Buying A House In Texas: Down Payment
Posted by Brent Wells on Friday, July 29, 2022 at 10:00 AM
By Brent Wells / July 29, 2022
Comment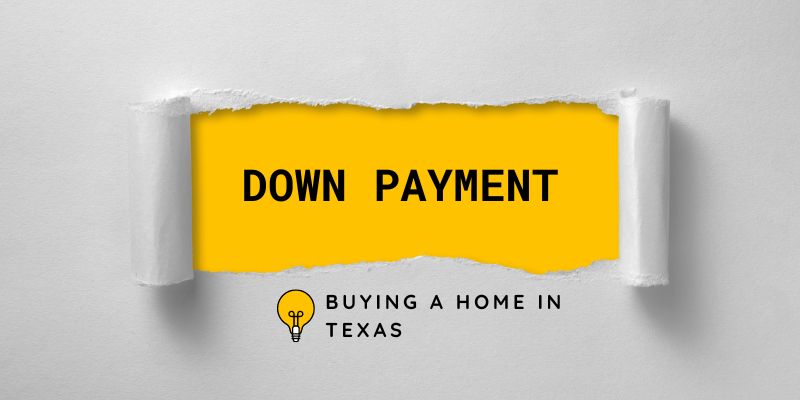 What is a home loan down payment?
The 'down payment' is the upfront payment towards the purchase of a home. This is typically cash you have in savings and does not come from a lender. A simple example would be the purchase of a $500,000 home. If you were required by the lender to put down 10%, you would need $50,000 in cash with a loan balance in the amount of $450,000.
Why is a down payment required?
Lenders have determined, you are more likely to repay a loan when you have invested some of your own money. This is a risk reduction effort by the lender to reduce loan foreclosures.
When is a down payment required?
A down payment is required, when you borrow money to purchase a home. The primary exception is when you pay for the home in cash. A cash purchase also removes the need for an appraisal, the Third Party Financing Addendum (Form ID: 40-9), and the loan approval process.
Agent Hint: Sellers LOVE cash offers, since there is less risk, it is faster to close and a buyer has less outs.
How much down payment is required?
How much money do you need to buy a house in Texas? This is really the question everyone is actually asking.
Every loan product has a different down payment requirement and many of them have a range. Many factors are involved in calculating your down paymet. It can vary from individual to individual. Please Note: The amounts listed below were accurate at the time of this blog post (Aug 2022), but may have changed by the time you read this, please consult with your mortgage professional for up to date information.
Conventional Loans
A conventional loan is one of the most popular types of loans home buyers select. Its what many people think of as a fixed rate loan or a typical home loan. Conventional loans are not from the government, but are from private lenders.
Most conventional loans conform to the Federal Housing Finance Agency policies and follow Fannie Mae and Freddie Mac terms and rules.
Credit score of at least 620
Down payments as low as 3%
PMI can be required for less than 20% down
FHA Loans
FHA loans are managed in partnership with the Federal Housing Administration. These loans offer the 2nd lowest down payment options after VA Loans.
As little as a 3.5% down payment
Credit score must be 500 or above
VA Loans
Must be a current, former or spouse or a military member
Must have a credit score of 620 or higher
USDA Loans
The United States Department of Agriculture developed the USDA loan program to intice people to move to rural areas. However, many times these locations are right next door to some of the hottest Texas cities.
USDA loans do not have a minimum down payment, this allows up to 100% financing of your new home. Restrictions apply. Check out the USDA loan programs website for areas of USDA Texas Loans that qualify.
Adjusted household income can't surpass 115% of the area median income for most USDA loans
Must purchase a home within an eligible rural area
Where can you get your down payment from?
Most individuals and families do not have a large cash reserve. This requires them to save money for a long time or find another source for their down payment. You will find a few safe ways to fund your down payment listed below:
An Individual Retirement Account (IRA)
A 401k Plan
Equity From Another Real Estate Property
Personal Savings
PRoceeds From The Sale Of Your Current Home
Home Equity Loans
Down Payment Assistance Programs
Is gift money allowed from a family member or friend?
Yes, but you need to seek the advice of your mortgage agent to guide you. If you receive gift funds from someone and they are not allowed to gift you funds it can invalidate your loan process. You must also have the correct documentation to proceed with a gift. It is possible and a good solution for many borrowers, just don't assume anything. Allow your mortgage agent to guilde you is the best policy.
Can I use a credit card for a down payment?
Nope, no way, no how, do not pass go to collect $200. Home lenders do not accept credit card payments and they also want to see the cash in your bank accound for at least 60 prior to closing.
Even if using a credit card was permitted when purchasing a home in Texas, it is not a good idea:
It would increase in your debt-to-income ratio
It would drop your credit score
It could lower credit score resulting in a higher APR
It could also cause your mortgage application to be rejected
Summary
We hope this information about downpayments for a home loan has helped. If you would like to continue the conversation about buying a home, we would love to help.
I am ready to get pre-qualified for a home loan
Great! Click here to fill out our mortgage pre-qualification form. Your information will be sent to our mortgage partner and they will be in touch right away.
Can I talk to an agent?
You bet! Just fill out the form below and we will call you right away!