Board And Brush is Now Open in Prosper
Posted by Brent Wells on Thursday, October 13, 2022 at 3:36 PM
By Brent Wells / October 13, 2022
Comment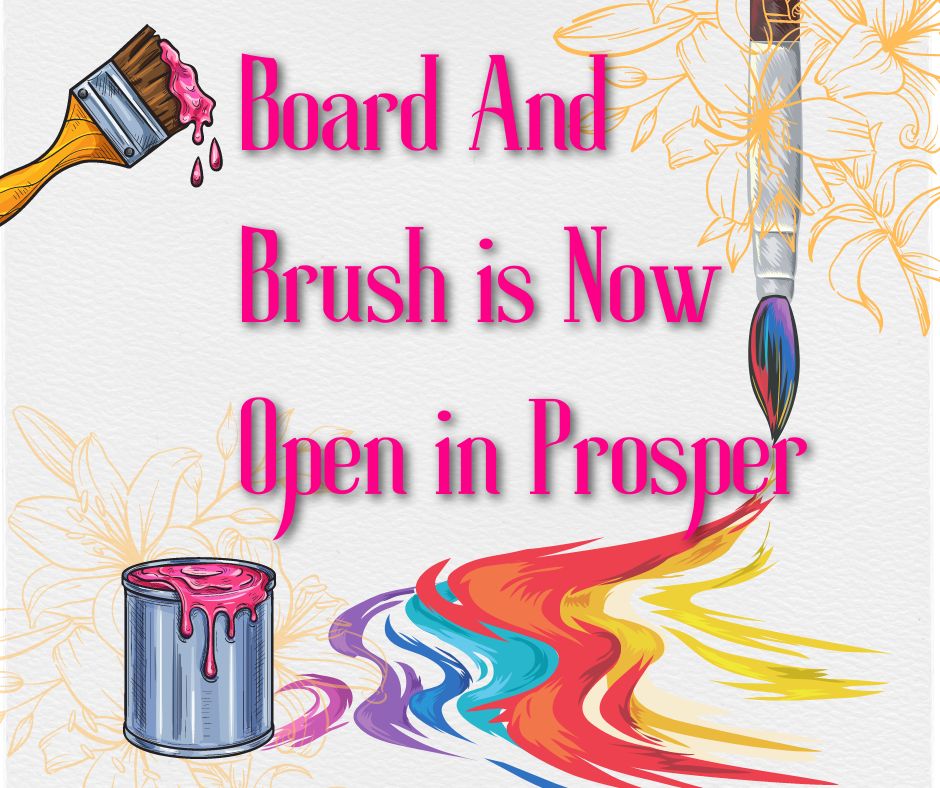 There's a new Board and Brush franchise store open in the town of Prosper. It recently opened up at the end of last month. It's located at the corner of Colton Road and East Prosper Trail right next to Chante Mexican Grill and Cantina.
About the Board and Brush franchise owners
The owners of Board and Brush Prosper are Catherine Humphrey and Kelly Maas. Both Katherine and Kelly met during their first year of teaching and quickly became kindred spirits and fast friends. Some of their colleagues gave them the nickname of "team awesome" it is a name they have taken pride in and embraced ever since. Katherine and Kelly love to be hands-on creators and take joy in completing DIY projects.
Katherine and Kelly are from the north Dallas area where they have lived their entire lives. They enjoy travel, food, and enjoying quality time with friends and family as well as a good bottle of red wine. Katherine and her husband Dan have been married for 20 years and have raised four boys who are now teenagers. Kelly married her husband Vance in 2020 and enjoy watching their favorite teams the Texas Aggies and the Dallas Mavericks. Both of these great ladies are excited to join the board and brush family and create a fun and creative environment for anyone that walks through the doors at Board and Brush in Prosper.
What is Board and Brush?
Board and Brush is a creative studio space that offers inspiring DIY workshops for anyone that would love to learn or already loves to create and connect with friends. At Board and Brush, you can create a number of different awesome items including wooden signs to decorate your home. There are also a series of mini-workshops called time crunch workshops that allow you to create a piece of art in a shorter time space to fit your busy schedule.
Beyond wooden signs which are the most recognized DIY craft at Board and Brush you can create items like canvas pillows, totes, tea towels, glassware, porch planters, doormats, and more. You can even pick up a HomeKit with all the supplies you need to make your own creative masterpiece at home. There is also the ability to host a party in the workshop, have a virtual workshop, or have a customized sign created just for you to either keep or gift.
This is a great way to get together with friends and do something fun once or several times. Stop in on a whim when you need some relaxation and relief or plan an outing to get away with friends.
For more information on living in Prosper including Prosper Texas real estate please contact us anytime.