9 secret new home upgrades
Posted by Brent Wells on Wednesday, February 27, 2019 at 4:52 PM
By Brent Wells / February 27, 2019
Comment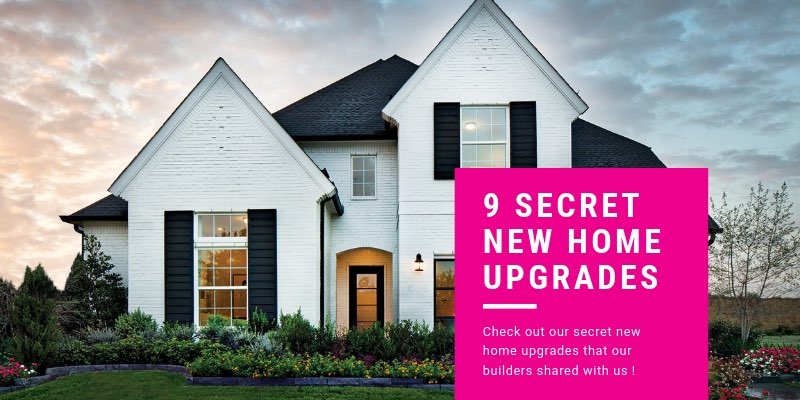 We asked some of our favorite builders what upgrades would they put in their next new home and we would up with 9 secret new home upgrades.
1. Get a recirculating hot water system and avoid the tankless hot water heaters. In north Texas we have plenty of power, but not plenty of fresh water. So save water and not power with the recirculating pump system.
2. Insulate the interior walls, just like your exterior walls are insulated. The insulation will reduce noise transfer from room to room and will add a more serene feeling to the homes interior.
3. Upgrade the interior hollow core doors to solid core. It is usually a very modest cost and adds a custom home feel to any home. The heavier doors also reduce sound transfer.
4. Have the builder add insulation and decking to the floor of the attic over the garage. You can get a tremendous amount of storage space this way and reclaim your garage for the cars.
5. Add more flat work or concrete to the back patio. Pour a pad for your trash cans or anything your heart desires since flat work is relatively cheap.
6. This one is for the parents of teenage girls! Put an electrical outlet under each bathroom sink. The hairdryers and curling irons plug into them and are stored under the sink. This helps keep the bathrooms looking neat and tidy.
7. Get a Christmas lights package and give Clark Griswold a run for his money. It is a seriously great upgrade, especially when you add a timer to the system.
8. Add a fence gate to each side of your home. It sounds simple, but the first time you don't have to literally walk all the way around your home you will thank me.
9. Lights, lights and more lights. Add tons of exterior lights to your home in the front, back and uplighting all around. Light lets the kids play safely in the backyard and keeps away bad guys...
Bonus - Add a basic home automation system. They have come along way and when combined with the internet of things and a control system like Alexa they can make life amazing. Imagine telling Alexa "good-night" and she closes the garage doors, turns off the lights, sets the thermostat, locks all the doors and tucks you in.
Let's get started on your home...
Let's meet for a cup of coffee and talk about how we can help...