10 Renovations to Add Value to Your Home
Posted by Brent Wells on Tuesday, January 4, 2022 at 11:01 AM
By Brent Wells / January 4, 2022
Comment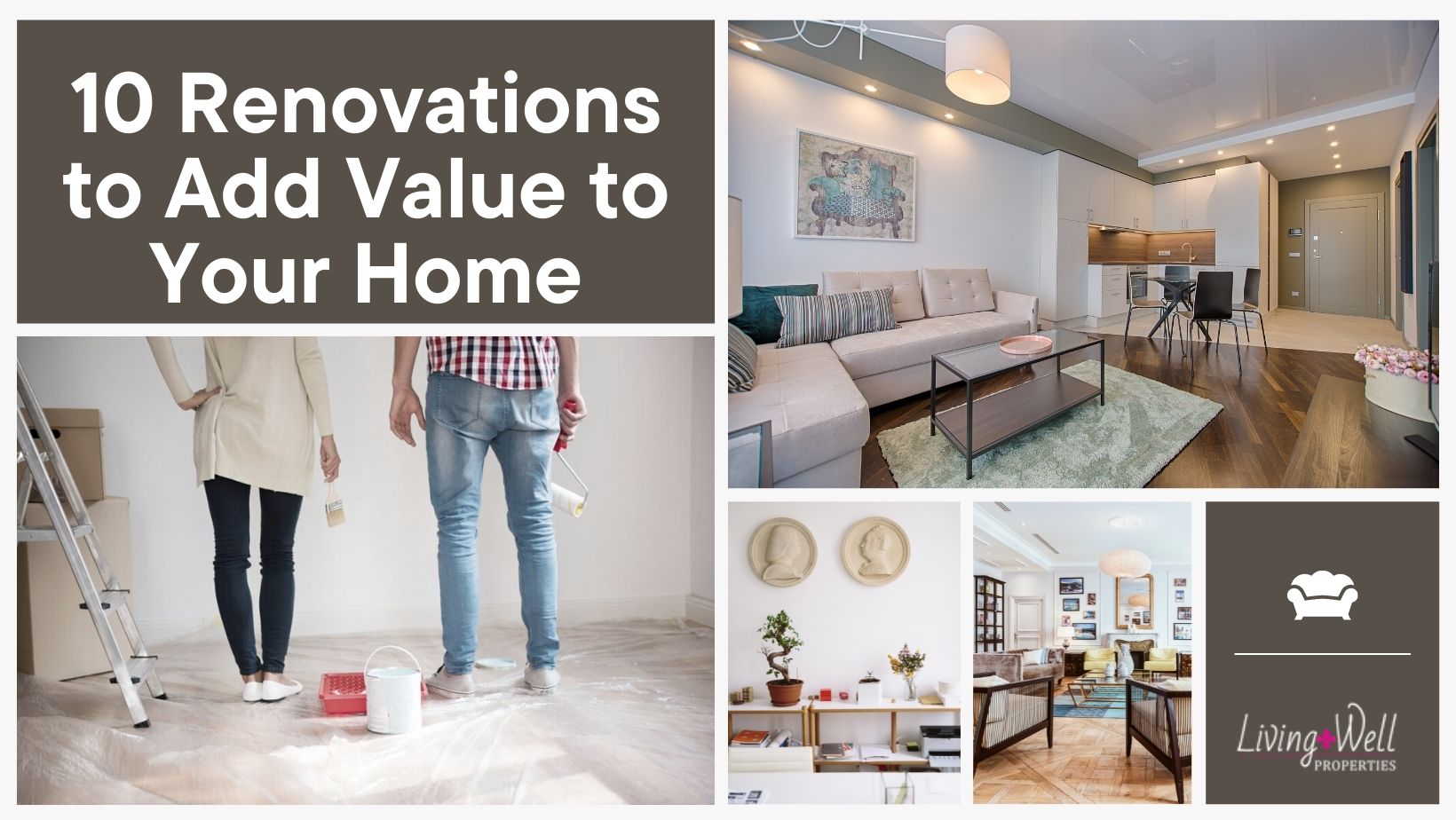 When renovating your home, keep in mind that some projects will add more value than others.
We've put together a list of 10 home renovations that add value to your home.
1. Kitchen Backsplash
One quick way to add value to your home is to add a kitchen backsplash, or replace an outdated one.
Backsplash installation doesn't have to be expensive, and you can likely do it yourself over the weekend. It will make a big impact on the look of your kitchen without taking much of a financial or time investment.
2. Upgrade Lighting Fixtures
Outdated or cheap looking lighting fixtures are one of the biggest ways to make a house look unattractive. They are also some of the easiest things to replace!
Replace outdated fixtures with something simple and updated, especially in kitchens and entryways.
3. Paint
The biggest bang for your buck when you want to add value to your home is a painting project. Paint, even with increased cost due to pandemic-related shortages, remains one of the most cost effective renovation tools.
Both interior and exterior paint projects can add value to your home. Start by considering if any of the paint in the home is in need of being redone because it is chipping, stained, or otherwise showing wear and tear. Also consider whether there are any paint colors in the home that would be a turn off to the average buyer and check out some more neutral options as a replacement.
4. Attic Insulation
Loose fill attic insulation will add value to your home in two ways. First, it will literally add value as it is taken into consideration when home inspectors and appraisers review your home.
Second, you will see an immediate improvement in utility costs as it instantly improves the energy efficiency of your home.
5. Front Door
Add value to your home, along with instant curb appeal, by replacing your front door. Installing a steel door is a great way to make a statement, setting the first impression as a home with high quality materials and an updated aesthetic.
A new fiberglass door is also a great option. According to one expert, homeowners recouped about 85% of the cost of the door. A front door replacement is also a project you are likely to be able to complete yourself, making it one of the most time-efficient and cost-effective renovation options to add value to your home.
6. Kitchen Remodel
This one is tricky because it's totally possible to spend more on a kitchen remodel than you will see in your home's value. To add value to your home without spending more than its worth, focus on updating any outdated design and making sure appliances are energy efficient and upgraded.
Minor, yet costly, updates like pot fillers, warming drawers, and expensive sinks are not likely to increase your home's appeal to potential buyers by as much as they cost you. On the other hand, updating cabinet color and hardware, appliances, and flooring can make a huge impact and add value to your home in a major way.
Related: Practical, Healthy and Emotional Design Trends for 2022
7. Garage Door
Much like the front door, a garage door makes a big statement as part of the first impression of your home. An updated, high-quality garage door is a relatively quick and inexpensive update you can do to add value to your home.
8. Siding
Home inspectors take the condition of your home's exterior into consideration when inspecting your home. Replacing outdated or damaged siding will instantly add value to your home.
9. Windows
While this may require a larger investment than some of our other ideas, replacing older windows will definitely add value to your home.
Potential buyers will be happy to see updated windows, and even if you aren't ready to sell you will love the facelift new windows give you your home, not to mention the savings when you opt for energy-efficient options.
7 Helpful Tips for Starting a Home Renovation
10. Add A Deck
If you have a space that may be well suited for a deck, consider adding one. A deck is relatively inexpensive but is almost sure to add value to your home. By increasing potential entertaining and living space, a deck adds space and charm to your home.
Thinking of selling? A few of these great home improvements can really add value. Remember, when you're buying or selling in the Celina real estate market or looking for homes for sale in Prosper, contact The Living Well Team!